Room and Board
Pension Pike's Lake offers you boarding services in 8 rooms and a very spacious apartment.
The rooms can be occupied either as single or as double. The rooms feature 2 single beds or a large bed (queen size) and bathrooms. The rooms can be found on two levels.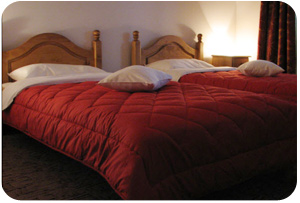 The rooms are spacious, well-lighted. The furniture is made of massive wood and it has a modern design.
We also feature LCD TV's with satellite programs and high speed wireless internet connection.
For parents with children up to age 3 we offer for free separate beds with mattress and bed sheets.