About the Pension and the Surroundings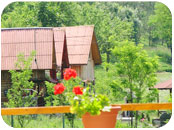 "Pike's Lake" Pension is situated at about a 10 km distance (6 miles) from the town Gherla, next to "Pike's Lake Bird Haven", an ornithological reservation, and offers a fairyland panorama over the delta lake.
You can start your mornings with a bountiful and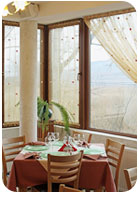 healthy breakfast. You are free to choose between an omelet, a sunny-side-up, "branza" (a special creamed cheese that is made only in this region), legumes, bread, fresh country milk, all of them home made. No matter how early bird you are, you would be able to enjoy the fresh aroma of a coffee and the caressing warmth of a tea, right before you leave for fishing or while watching the sun rise and listening to the chirping of birds. You can gaze away at the beautiful panorama from the terrace, where you can serve your meals right in the middle of nature. At the same time, the homey and welcoming restaurant is expecting you at any time.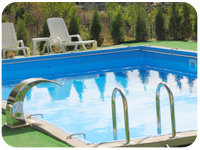 The best way to relax in a hot sunny day is to take over the swimming pool and combine the sport with the relaxation. You could swim for 11m long and 5.20m wide or you could enjoy the monumental waterfalls of the swans or just enjoy the bubble massage when taking a break from swimming and playing in the water.
The towel and swimming cap are available, because our desire is to offer our clients this experience within a proper, clean and healthy environment. Do not forget about the shower and remove the tanning oil before entering the pool.
For a natural tan all you need to do is to book a lounge and fully enjoy the sunbath.
In the pension's courtyard the area dedicated to play is bestowed with a meaning deeply engraved in childhood.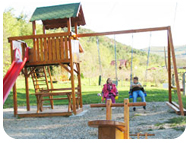 The chute, the swing or the seesaw keep a vivid memory of this unforgettable experience. The badminton and volleyball courts are at a "ball's throw". Later on a complete relaxation is being offered by the idleness of the sauna and/or of a massage upon request.