"Pike's Lake" Pension
Our pension offers rest, a halting place and relaxation for the bold traveler in search of nature's beauty. If you dream about running away from the fuss of everyday life and if you want to enjoy the blessings of a simple life devoid of worries, don't hesitate to get on track!
Whether you are a dedicated fisherman or just a rookie, you'll arm yourself with your fishing equipment or just with the enthusiasm of the explorer always ready for adventure.
Once here you will enjoy the peace of a secluded place endowed with the advantages of civilization and creature comfort.
Dare to dream and make it true!
Join us!
Nothing compares to spending time outside, in the middle of the nature. Once the hunger for nature is rested, let your tastes be delighted by our cuisine. We use the most desired ingredients - devotement and love, to prepare the meals for you. You can decide either for traditional food, tasting like "home cooked", or you can order fish, unique for its quality and palates, and do not miss a special dish served according to the saying "no meal without fish".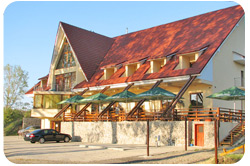 Speech is unhindered, experiences are more intense and life becomes charming when sharing a cup of wine. And since we wish you felt as a part of the venue the traditional digestive is on the house in your honor as our precious guests.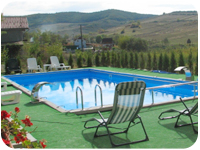 We encourage you to go swimming or to simply discover the use and the pleasure of a day spent together with family and friends into the relaxing company of the swimming pool waters. The twinkles and sparkling of the water during the daytime and the colorful lights late in the night are fascinating for the ones who take their time to contemplate this beauty. But you'd better judge it yourself!
Rest is guaranteed 100%... and even appreciated after a god stroll around in nature. And exercise being essential for a healthy and balanced living you won't need more than naming your option: biking, playing volley ball, badminton.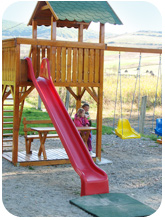 It is the joyfulness of childhood that impels both small fries and parents to dedicate some of their time to playing. Any time we can cater you utensils for playing in the sand, or you can also enjoy the wonderful sensations while in the swing and when trying the chute. Society games like rummy, chess, poker, monopoly can motivate you and request your attention in a constructive manner.
We enormously respect your tastes and opinions, so we invite you kindly to share them with us by connecting for free to our high-speed wireless internet which you can access whenever you feel like. We invite you to honestly express your experiences, your expectations and your complaints you had as our guests.