Tourist Landmarks
You can get acquainted here with the details about leisure time possibilities at Pike's Lake Pension.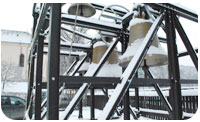 One of the most famous religious landmarks of the region - Nicula Convent - is only 5 km away.
Maybe the nicest plane lake of Cluj County, Pike's / Pikes' Lake is only 10 km away from the town of Gherla.
Learn here details about tourist sites of the region that can be visited.